Who uses Selfloops
Teams and professionals around the world that use Selfloops to improve their performance.

Federazione Ciclistica Italiana
The Italian Cycling Federation is the national governing body of cycle racing in Italy.
NIPPO Vini Fantini De Rosa
The first italian-japanese Pro Cycling Team.
Coach Team Assistant
Professional coaches, coaching pro cycling teams and champions such as Italian Chrono Champion Marco Pinotti. With a modern and scientific approach to cycling.

Motiv Personal Training
High-powered personal training and boot camp that help you to burn fat fast and tone your arms, thighs, buttocks and stomach.
Using SelfLoops app has really helped us trasform training at our gym. Our clients wear the heart rate belts and we project their heart rates on the wall using a tablet and projector. Knowing the heart rate data has allowed us better coach our client's intensity as both our coaches and cliens can see where the heart rates are during an exercise. We've even been able to design whole training sessions that use work/rest ratios based on heart rate recovery. Plus, new clients see the heart rate screen and know that our focus on training is different than the other clubs in our area. Brian Lunt - Motiv Personal Training

Julian Sanz
Julian Sanz Ultra Cycling Rider. Riding very long routes, such as Ride Across America (RAAM).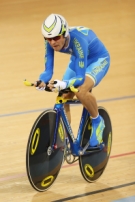 Yehor Dementyev
Gold-winning cyclist Yehor Dementyev (two gold medals in road cycling at the London 2012 Paralympic Games) uses SelfLoops to track and analyze his activities.

Pedal Active
A new spinning studio in Ashtead.
I just say your system that we have been using for a few months now has proved invaluable to training and I am so glad we went with it, we are lost without it! Well done. Barrie Robinson - Pedal Active