Features
Stream your sport activities in real-time
Track your sport activities and stream your training data in real-time to friends or coaches. They just need a browser. You control whom has access to this information. Some of the variables you can stream are cadence, speed, altitude, bike power, heart rate, GPS location, distance, duration, calories.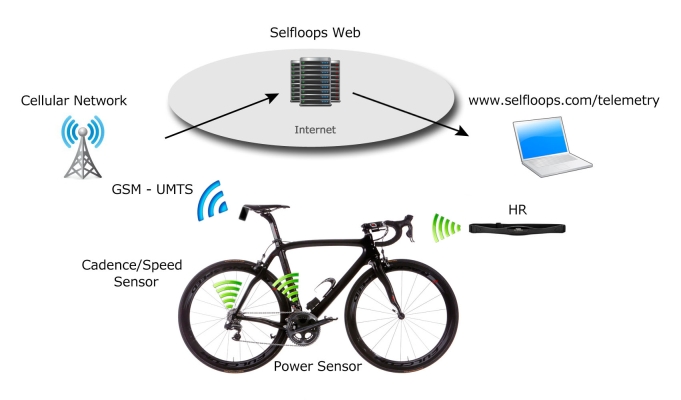 For workouts indoor and outdoor
You can use the telemetry also indoor, in spinning classes, treadmills or velodromes, it just works. Data are streamed over the Internet using a cellular network data connection or WiFi, you choose.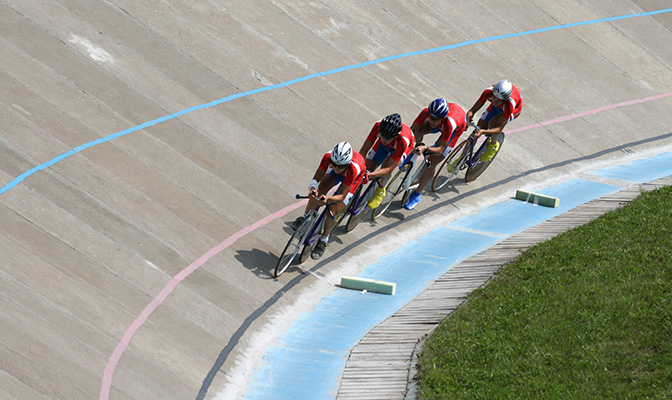 For trainings and races
You can use it during trainings to analyze and improve your performance, or during competitions to let friends and coaches monitor and evaluate your races. As a matter of fact the telemetry can be used during sport events to increase the involvement of fans and friends.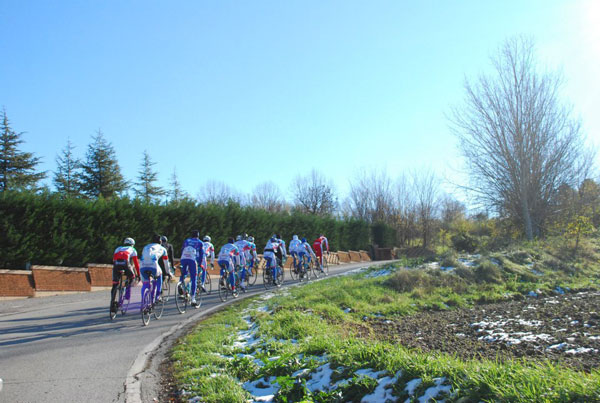 For athletes and teams
You can monitor the performance of an athlete but also evaluate the activities of a group or a team. If you are a coach or a event manager, you can select the people to follow during trainings or competitions.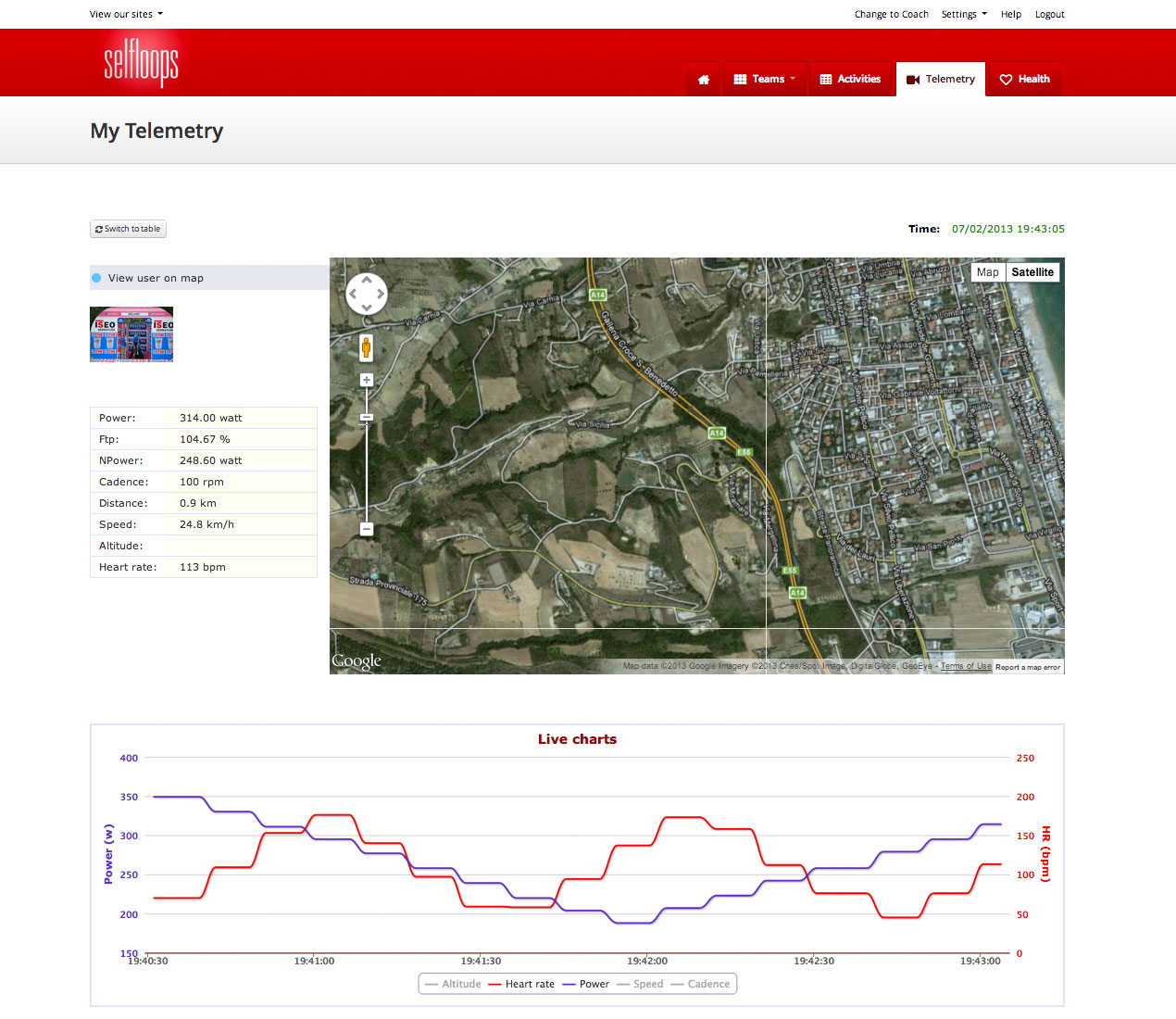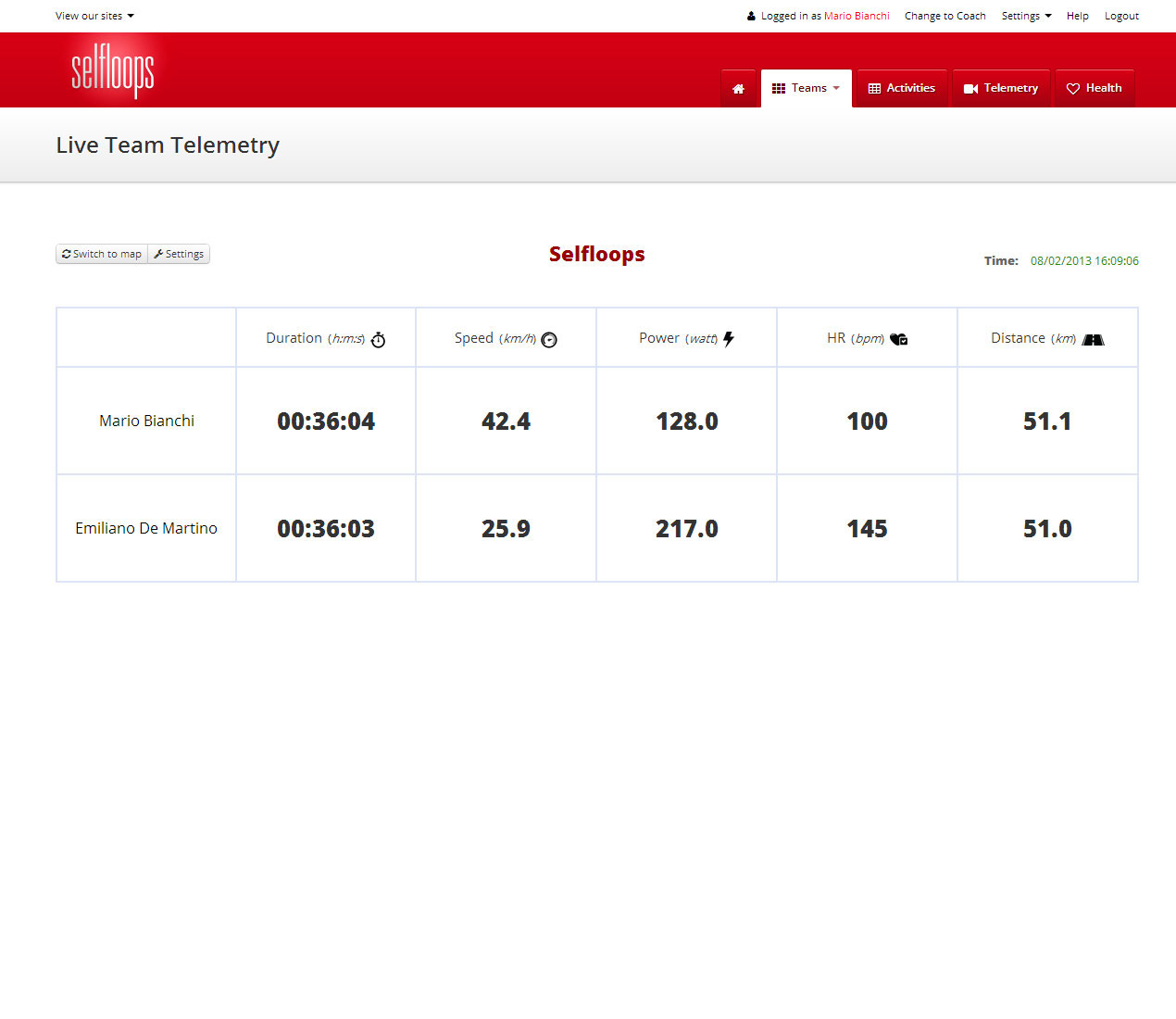 Be in control of your data
Data are stored also in the smartphone and can be saved or imported in any service that supports the standard TCX data format. You can also save your workouts with a simple click in our Selfloops web site, Dropbox or send them by email to friends.
Share your activities in social networks
You can let your friends know you have been training by sharing the activities on Facebook or Twitter.
Keep your weight always in sync
You can synchronize your weight in the application if you have the Withings scale (www.withings.com).
Technical specifications
SelfLoops is a complete and integrated service made of an Android™ application for smartphones that tracks and collects fitness data from sensors and, a set of of servers that manage this information in a scalable manner.
The telemetry can be seen with any Internet browser from any location, there is no distance limitation.
In order to transmit data to our servers an Internet connection is required. The smartphone can use the cellular data network, or WiFi.
Data are streamed in real-time at a frequency that can be selected by the user.
The application supports any smartphone with Android 1.6 and higher.
We support many ANT+™ sensor, as far as the smartphone supports ANT+, i.e. Sony Xperia Active™. If your smartphone does not natively support ANT+ please read our tech guide "How to Enable ANT+ in Android Devices".
We have tested the application with bike speed and cadence sensors, bike power sensors, stride sensors, heart rate monitors.
We support the Bluetooth™ Low Energy heart rate monitor.
The smartphone application works without the need to register with our servers or use an Internet connection. This information can be stored in the device and shared after the training. However, for the telemetry to work a valid SelfLoops account and an Internet connection are required.
Data can be exported in the TCX format and shared with services like Dropbox™, Garmin Connect, TrainingPeaks and any other services that support this data format.
Location tracking is supported using the GPS system, in indoor this functionality is not supported given the technical limitations of the current GPS technology.
With no sensors is still possible to have a telemetry. In outdoor you can stream location, speed, altitude, calories.
Note, intense use of the GPS can dramatically decrease the smartphone battery life.
Trademarks
Bluetooth is a registered trademark of the Bluetooth SIG, Inc. ANT+ is a trademark of Dynastream Innovations, Inc. Sony Xperia Active is a trademark of Sony Ericsson Mobile Communications AB. Android is a trademarks or registered trademark of Google, Inc. Portions of materials are reproduced or modifications based on work created and shared by Google and used according to terms described in the Creative Commons 3.0 Attribution License. Dropbox is a trademark or registered trademark of Dropbox, Inc. All other trademarks belong to their respective owners.